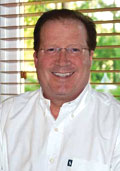 Tim Thornton, Owner and President
After earning his Bachelor's Degree in Art and Business at Hillsdale College, Tim attended 2 full years at Kendall School of Design. Concentrated studies included advertising design, illustration, and art history. Tim started his career as a production and design artist for The Direction Source in Grand Rapids, Michigan. After a few years he was hired as an Art Director by Alexander Marketing Services, a full service advertising agency, headquartered in Grand Rapids, Michigan. He was trained in all aspects of the company's business procedures in order to head the creative department in their Chicago branch, where he spent several years. In 1990, Tim moved to Atlanta, Georgia where he helped develop in-house marketing/advertising departments for companies and service bureaus. He also created and assisted in publishing Digital Output Magazine. In 1999, Tim started his own company, T.L. Thornton Creative, Inc., a business-to-business graphic design and website development company with national and international clientele.
Skills and Attributes:
• Strong organizational skills and confident decision-making abilities
• Detail oriented and quality conscious
• Advanced design skills
• Photo retouching, composing, and image manipulation
• Technical illustration of product prototypes or existing product cut-aways
• Photo direction
• Print production
Software:
• Adobe Suites: Photoshop, Illustrator, InDesign, Flash, and Acrobat
• QuarkXPress
• Microsoft: PowerPoint, Word, and Excel
Tim resides in Alpharetta, Georgia with his wife and is an avid golfer, enjoys outdoor photography, watercolor painting, and creating and producing his annual hand painted Christmas cards.
Click here to view watercolor paintings used in Christmas cards